The process for a first admission to trading of shares (generally known by the English acronym "IPO" or Initial Public Offering) requires some preparation. The level of demand and planning required for an IPO depends on a number of factors relating to the issuer itself, such as the stage of development its Company is at, its corporate governance model and internal organisation, the transaction itself – such as the characteristics and format of the offer that precedes the admission to trading ("the Offer"), the admission market, and also the type of presentation document that needs to be prepared to make available to investors or additional information that the Company wishes to make available.
The Offer and/or Listing presentation document can be a Prospectus drafted in accordance with the EU legislation ("EU Prospectus") or an Information Document ("Information Document") and aim to support investors in making an informed decision on whether to invest in the Company's shares. Accordingly, it is necessary to ensure sufficient transparency and protection to the potential investors.
The preparation of an Offer addressed to the general public ("Public Offer") that has as a presentation document an EU Prospectus is, on one hand, more challenging than it would otherwise be for an Offer that only requires the disclosure of an Information Document, but, on the other hand, the former allows to reach easily more investors and higher liquidity.
Drafting a Prospectus may be more demanding but not necessarily a burden: the Prospectus is subject to approval by the CMVM (or "Regulator"), which provides, from the beginning, the proper support to potential new issuers. The CMVM adopts agile, simplified and timely review and approval procedures as part of its market development objective.
An EU Prospectus may benefit of a higher level of confidence from the investors.
In certain circumstances the preparation of an EU Prospectus is a mandatory requirement for the Offer. The main characteristics that determine the need to prepare and disclose a Prospectus are:
If only an Information Document is required, the IPO process may be simplified, given the information that needs to be disclosed (when compared to a Prospectus) is less detailed, with the aim to reach a balance between simplifying access to finance for SMEs and protecting investors.
Market segment
You may choose to list your shares on a regulated market or on an MTF.
If you choose to list your shares on a regulated market you will have to prepare a Prospectus. If you choose an MTF, you might not need to prepare this document dependent on the type and size of Offer you pursue.
The regulated market has the higher level of eligibility criteria and more demanding ongoing requirements upon listing, given that is the segment that provides more liquidity and may attract more interest from investors. It should be noted that beyond the enhanced visibility provided by regulated markets, some Institutional Investors have investment policies that require them to invest in regulated markets exclusively.
Alternatively, the MTF segments have lower levels of eligibility criteria and less onerous ongoing requirements upon listing but may provide lower liquidity.
Targeted investors
You may choose to offer your shares to the general public (i.e. by pursuing a Public Offer) and/or to Institutional Investors (i.e. by pursuing a Private Placement). A Public Offer reaches a wider pool of investors and enhances the Company's image and credibility but may require a longer and more demanding preparation. Alternatively, a Private Placement will be commonly faster and agile but may result in lower visibility and liquidity.
Besides the exceptions that will be presented next, if you choose to pursue a Public Offer you will have to prepare a Prospectus. If you choose to pursue a Private Placement and a regulated market is chosen for listing you will also have to prepare a Prospectus, but simpler and more concise. Finally, in case of a Private Placement and listing in MTF you only need to prepare an Information Document.
Offer size and structure
The Portuguese and European legislation provide exemptions for the need to prepare and disclose a Prospectus for Public Offers.
A Prospectus will not be required for a Public Offer if any of the following applies:
SMEs and other companies meeting some criteria, may choose to draw up EU Growth Prospectus, a more simplified and concise Prospectus.
Considering the referred elements, these are the different assumptions according to which a prospectus may or may not be required: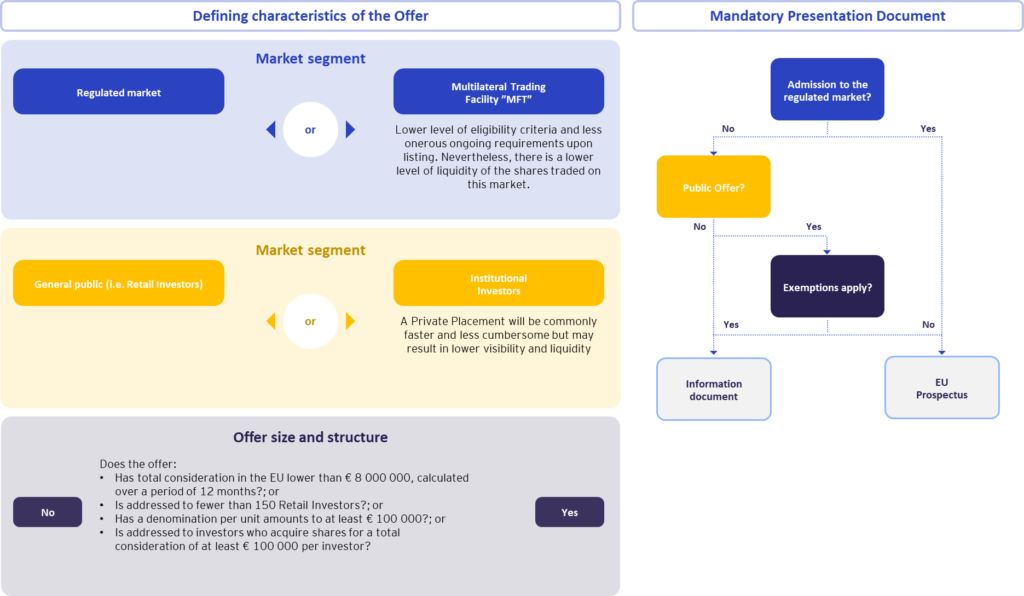 The section '3.1.1. Full Scope IPO Process (IPO with Prospectus)' explains the typical IPO process and its main steps in case a Prospectus is required. In Section '3.1.2. Simplified Scope IPO Process (IPO without Prospectus)' we will present the main differences of the Offering process when no Prospectus is required and show potential Issuers the path for the admission of the shares to trading on an MTF.